Treasures for the Artist's Library
Whether the creative process finds first form with blank canvas or a landscape focused through a lens, there's no doubt that ideas are inspired by both creativity and knowledge. But what happens when your well of inspiration runs dry? It's time to pick up a book and start reading! You'll find volumes of creative ideas at your local bookstore, library or favorite online book boutique, along with ideal guides for artwork preparation and presentation. Here, we've outlined a few must-have books to get you started.

'A library is thought in cold storage.' ~Herbert Samuel

Art Photography Now, edited by Susan Bright



Edited by Susan Bright (a former curator of the National Portrait Gallery in London) Art Photography Now surveys the work of 76 of today's most important photographers, including Andreas Gursky, Cindy Sherman, Jeff Wall, Boris Mikhailov, and Stephen Meisel.

Bright organizes the book into thematic categories--City, Portrait, Document, Object, Landscape, Fashion and Narrative--and explores each artist's work. Though this publication focuses on contemporary work, the introduction explores the relationship between art and photography from the early 19th century and its importance today. Bright includes excellent material on these artistic influences, with artists' impressions and insight into their own works.
History of the Restoration and Conservation of Works of Art,
by Alessandro Conti, translated by Helen Glanville



As one of the few books in English about the history of conservation, this is a priceless resource for conservation professionals, art academics and art enthusiasts. Focusing on Italian art, this material translation of historical documentation offers English-speaking artists, photographers, students and historians new access to real 'buried treasure.' The historical knowledge and philosophies found here are easily transferable to modern-day restoration and conservation practices.
Library of Professional Picture Framing Books,
by Vivian Kistler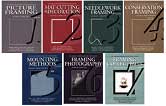 Kistler's seven-volume series can serve as the cornerstone of your professional development collection. A frequent contributor to publications such as Art World News, Picture Framing Magazine, and DECOR Magazine, Kistler is an expert in the field--she is certified as a Master Custom Picture Framer by the Professional Picture Framers Association and has owned/managed her own frame shop and gallery for more than 20 years. Novices and experts alike can learn from her comprehensive and informative collection.
Picture Framing, Vol. 1 includes chapters on the history of framing, cutting & joining wood & metal molding, ordering frames, cutting glazing, measuring, basic mat cuts, mounting equipment and methods, color, proportion of frame design, stretching paintings, conservation, layout of frame shop, and work order processing.

Mat Cutting & Decoration, Vol. 2 guides readers through the creation of over 50 different mats. The step-by-step instructions and illustrations are designed to help artists master even the most elaborate mat construction techniques. Also, this book is recommended by the Professional Picture Framers Association as a study guide for the Certified Picture Framers Test.

Framing Needlework, Vol. 3 explores many types of needlework and fabric framing from cross-stitch wall coverings to rugs and floor coverings. Although you may not use needlework or fabric in your current work, this book may be an excellent resource for inspiration or developing new techniques. This volume is also recommended reading for the Certified Picture Framers Test.

Conservation Framing, Vol. 4 is an exhaustive professional reference book on the art and science of conservation framing. Subject material ranges from preventing artwork damage to how to select materials. The author also provides step-by-step instructions for projects in watercolors, papyrus, pastels, photographs, skin documents, and sports cards. If your artwork requires conservation work, you'll find yourself returning you to this book again and again.

Mounting Methods, Vol. 5 starts with mounting basics and works through the intricacies of wet mounting, pressure-sensitive mounting, and spray mounting. It also includes information on pricing mounting services and step-by-step instructions for projects with photographs, posters, newsprints, rubbings, and fabric. Kistler's handy quick-reference mounting method chart is a resource bonus.

Framing Photography, Vol. 6 is regarded as a go-to professional reference guide to framing photography. The volume covers a range of photographic processes, conservation techniques, mounting methods, and framing techniques for many types of photographic art. The most artistic photographers are sure to enjoy many of the 19 projects explored, such as Building a Glass Box with an Easel for a Card Photograph, Mounting a Photograph in a Shadowbox with a Three-Dimensional Object, and Hinged-cover Door Frame.

Framing Collectibles, Vol. 7 is an updated edition of Kistler's earlier work, and sure to please those who are also art and collectible enthusiasts. The techniques in this book can be used to frame over 120 types of collectibles including stamps, toys, clothing, baseball cards, fossils, and photographs. This book also includes instructions for building and using a multitude of different shadow boxes. With Kistler's final guide, turn memories into art!
Just as our selections serve as a collection of resources for today, your memorable work could be the artwork collected, studied and treasured for tomorrow.