Artistic Engagement - Ensuring the Future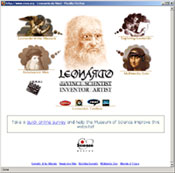 Since history began, artists, creatives and visionaries have been at the forefront of culture, of controversy, and of change. Just consider this: Would we have had a Renaissance Age without the original Renaissance Man? The Old Master himself, Leonardo da Vinci, made contributions across multiple disciplines. His art remains a central topic of discourse; his genius influenced science, mechanics and machinery, mathematics, politics, religion and culture. His work bridged society from medieval to modern -- and his influential genius was often controversial.(http://www.mos.org/leonardo)
Fast forward to today's headlines: affordable housing, poverty, hunger and homelessness at-risk youth and lonely frail seniors global warming, renewable energy. There's plenty of causes and controversies. But beyond the debate is a need for service that safeguards today and sustains tomorrow. Issues abound that cry for artistic visionaries and genius. What fires your passion?
One Story: Service - A Means to Engage the Community
Dan Brawley is an artist of diversified disciplines, from photography and landscapes to murals, mosaics, video and lots in between. He graduated from Duke University with a BA in Art and Art History. He's taught photography and art since 1996 and often lectures on filmmaking as an art. He's been paid and he's worked as a volunteer.
Open Dan's portfolio--his works have been widely exhibited across his home state of North Carolina--at St. John's Art Museum, Fayetteville Museum of Art, and Cirrus International in Nags Head. Dan is currently the artistic director for the Cucalorus Film Festival. His prestigious credits include collaborative large-scale commissions for North Carolina's Aquarium at Fort Fisher and the Wilmington Children's Museum. And on the day of Redimat's interview, Dan was getting ready for the Weave exhibit at Wilmington's prestigious Cameron Museum of Art.

Dan's resume may be the envy of artists and photographers focusing on art as career. His credits and credentials reflect a professional who's working, who's respected, who's impressive. One could quickly surmise that Dan is a fortunate artist whose art earns his keep.
Just barely, he says, yet it's quite good enough -- even more than enough. Beyond the surface is the real artist--one who long ago let go of the cultural norm--that money is a measure of success. Instead, Dan lives spartanly. He needs only the barest of essentials to create a visionary canvas and live aligned with it.
And what's essential to his life as an artist is service. It's so integrated in his work, the service can't be classified, categorized or compartmentalized within the traditional paradigm of 'volunteer.'
"I don't really have conceptual boundaries between what's volunteer and what's not - these are not separate expressions or separate endeavors. Just like I don't really know what work is - work, it seems like a term created to manipulate human capital and I don't see my life in those terms."
Instead, Dan's life is defined by such terms as community, engagement and collaboration. It's difficult to distinguish collaboration from compensation. In Dan's worldview, they're one and the same.
Essentially, conservation framing creates an encased environment designed to protect and preserve the art, while creating a display for appreciation. It's also important to know:
At IAC for example, the artist's volunteer time transformed two trashed buildings into what's described as "a sanctuary for creativity, a place where artists meet, work and share." The renewal project was collaborative, much in the spirit of "raising a barn," he says. "So I guess my work with IAC is about half volunteer work. The result of that? The studios with 15 resident artists. We now have a community of artists that previously didn't exist - it extends outside of our community into the greater community. The whole cycle continues and something new manifests every day."
Dan says he "wouldn't necessarily advocate it for everyone because most people need more order." And among some artists, full engagement is controversial. Besides, most people need more money, or think they do. "I do without a lot of things a lot of people consider essential. I don't have health insurance. I drive a '65 pickup truck and the brakes function about half the time. Taking life down to the bare minimum - there's a creative freedom that results and a spiritual quality when you do things you don't get paid for."
How Dan sees is certainly critical to his art. Dan's sight is visionary; his insight may not apply to artists who think in the more traditional terms of art as salary, as career. Still, within his vision is esteem for service and the volunteers who provide it. "They are the Jedi and they really do see what life is about. Isn't that the much greater compensation?"
For Dan, a key part of his service has originated from his native roots. "You don't have to live where you grow up, but you do have to link people together where you live. This makes you a valuable resource to your community and as an extension of that, your art becomes a valuable resource."
So What Can You Give Your Community?
Perhaps it's a few hours you want to contribute, and through 'giving back' you build your audience, enhance your brand and increase opportunities for commercial enterprise. Or maybe you're thinking that Dan is spot-on - it's service or bust - a mindset that indeed might kindle artistic transformation. Or suppose you're a postmodern da Vinci, passionate enough to make headlines that impact the future.
Perhaps your motive doesn't matter nearly as much as your community that's waiting for you. Here are some ideas for service that work for 2007, while working to ensure a cultural future:
Artworks in Progress: Host community arts and photography workshops through your artistic network. Be inclusive of populations who may not be able to access art resources. Consider on-site workshops at after-school centers, assisted living facilities, community centers, group homes and shelters. At conclusion, you may want to sponsor an art show; proceeds could benefit a local nonprofit or provide funds to continue the community initiative.
Be Green: Make an artistic statement for the environment. Are you a photographer willing to capture the bleak effects of littering, stormwater runoff - the state of emergency at a local reservoir? It may be your work that's needed to bring attention to the problem of global warming -- your artistic donation that makes the River Watch fundraiser a success.
Engage & Support Youth: Create a photo gallery of student art. Feature it on your web site. Lead a collaborative youth art project in your community -- consider a focus on revitalization and renewal. Share your knowledge, passion and inspiration -- make an ongong volunteer commitment. Remember, promoting the arts through youth ensures a future for the arts.
Energy & Conservation: Practice concerted efforts to reduce the waste generated from your own studio or workspace. Conserve and recycle; use sustainable materials. Upcycle - develop creative recycling techniques that result in works of recyclable art. Promote your practices.