Creative Commons – The Value and Risk of Flexible Copyright
You've worked hard to create your work, whether it's a black and white photo or an abstract piece done with oil paints. And you want to get it out there, maybe even online--showing your work, inviting comment and feedback and selling a piece or two. Is there an easy way to protect your work from being ripped of, while sharing it at the same time? Yes.
Creative Commons is a type of licensing which promotes the creative re-use of intellectual, creative and artistic works — whether owned or delivered in the public domain. This licensing form is a new alternative to traditional copyrights—a quick and free middle ground between full copyright control and the unprotected public domain.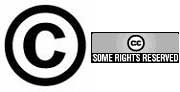 Easing the Pain of Copyrighting
Artwork is automatically copyrighted at creation—it doesn't have to be registered. But without legal registration, proving copyright can be a daunting issue. The issue is easily circumvented via Creative Commons (CC), which gives artists a solution to protect and distribute artwork without having to pay for an 'official' copyright or affiliated legal fees. CC licenses provide a flexible and customizable range of protections and freedoms for authors, photographers, visual artists, performing artists and educators.
The free license legally defines the parameters of acceptable use and distribution of an individual work or even a body of work. Licenses are highly applicable to online work, or wares that appear to be in the public domain. Consider your online image gallery or web-based portfolio.
Do you want to encourage personal use but safeguard images from commercial use?

Is your web site gallery openly shared to bring traffic to your site?

Do you want to allow others to build upon your work?

Are you open to liberal use as a contributor to derivative works?
If you answered yes to any of the above questions, then CC may be a good solution for you.
Six License Choices, Ranging from Very Restrictive to Very Liberal
While there are six main licenses, we're going to keep our discussion to the two on opposite ends of the spectrum--the 'free advertising' license, which is the most restrictive, and the 'attribution' license, which is the most liberal. You can see all six license options and learn more at Creative Commons.
'Free Advertising' is the goal of CC's most restrictive license, which allows limited distribution, mainly as a way for you to advertise your own work. People can download your work and share it, as long as they don't change it or use it for profit or commercially. You get advertising because they must give you full credit for your art or photo, and include a link to your web site.


'Attribution' licensing grants liberal use – allows anyone to "distribute, remix, tweak, and build upon your work, even commercially," as long as you get credit for the original artwork, image or body of work.

All licenses include CC's "baseline rights and restrictions." Before applying a Creative Commons license, it's crucial to examine the baseline protections along with the licensing language. And since your artwork is your 'brand,' it may be just as important to examine the design and intent of the Creative Commons community at work. After all, licensing integrates the Commons brand with yours.
Features & Benefits
How are artists and photographers using Creative Commons? And how are they benefitting from the common community and culture?
Check out this Creative Commons Art Show launched by New York University Free Culture. CC affiliation gave this group extended methods to publicize the show, and the individual artists and their web sites--not to mention a built-in network of supporters. Artists developed a meaningful message related to their collaboration, the community and the art-appreciating public.
Boston's Art Remix was hosted by Harvard FreeCulture. Headlined "Sharing is Daring," the event promoted the most liberal use and exchange of works allowing free reuse and remixing. "Why is this important?" the collaborative asked. "Just think: where would Disney be if there were no fairy tales? What would our national anthem be if Francis "Sharedevil" Scott Key hadn't ripped the melody off of an old British drinking song?"
Whether you're an artist looking for a quick alternative to traditional copyright or a photographer intrigued by the thought of promoting your work in an innovative manner, Creative Commons has a flexible plan just for you.