Matworks: Focus on Mats
The creative act is not performed by the artist alone; the spectator brings the work in contact with the external world by deciphering and interpreting its inner qualifications and thus adds his contribution to the creative act.

— Marcel Duchamp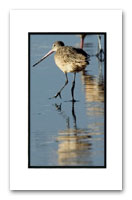 Marcel Duchamp radically changed societal definitions of art in 1917 with his piece Fountain. This controversial artist and his infamous icons offer an essential lesson: presentation is often the key element in transforming a simple photograph, sketch, or drawing into "art." When used appropriately and creatively, mats elevate the perceived value of your work and guide prospective buyers to appreciate your pieces in ways that may not be apparent to the average consumer.
Not convinced that a mat can make a difference? Consider these examples:
A simple look around Annie's home helped her understand how mats affect artwork. The pieces that looked the best and appeared to be the highest quality were all matted. "The sketch I bought for $20 at a street festival looked much more dramatic and expensive than a professional photograph that cost over $200," said Annie. "While they were in similar frames, the sketch looked like a more high-end piece because it was bordered by a quality mat."

Chris had been selling his photographs for years, but never matted them until he joined an artist collective with a small gallery downtown. A fellow photographer showed Chris how mats of different colors and sizes enhance a photograph's presentation, and compliment the image's center of visual impact. "I've not only sold more photographs," commented Chris, "But I've also charged a lot more for my work — and my customers have been happy to pay it!"

Meredith has found that educated art collectors greatly appreciate her use of mats. Mats facilitate appreciation of her watercolor paintings and help buyers keep her paintings beautiful for a very long time. "I feel like my choice of mats shows my buyers how much I value my work," said Meredith. "I think my buyers feel the same."
Choosing a Mat: The Color
Bold or intensely colored mats can help other people connect emotionally with your work--imagine the striking impact of a slate blue mat surrounding a stark winter scene or a fire engine red mat picking up the handful of red dots on a contemporary painting.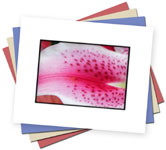 But if you're new to mats and new to selling your work, you may want to initially hold off on bold colors and stick with a classic white mat. Why? Well, white mats 'match' almost any décor, making it easy for a buyer to envision a particular piece over their blue couch or their cherry wood mantel without worrying about colors clashing. Also, white mats can be bought in bulk--saving cost.
Whatever color you choose; mats can be used as a tool to further your artistic vision and the mood of each piece. They can be classic or contemporary, simple or complex, funky or traditional—it's all up to you!
Staging the Scene
Experiment with different mat sizes, layers and colors. Aim to choose the right mat for the individual media and mood. In fact, what matting best conveys your title, and further makes a statement about you? The right mat will help collectors focus on your artistic style and help prospective buyers understand your vision and talent.
Mats are a means to synthesize visual elements and emphasize those elements you want to stand out. A dark purple inner mat can really set off the beautiful shadows in a picture of the Rockies or pull to the forefront the subtle colorations in an iris. Or, for those architectural images, a metallic finish mat board may add the perfect touch of texture that the presentation needs. And if you're double matting, you'll probably want to use this accent as the inner mat – or "reveal" -- and surround it with a subtle muted or neutral outside border.
Since matting can be an art unto itself, consider the impact of various mat stocks – work to hone your own tried-and-true matting techniques:
Custom cuts: Redimat provides ready-made matting solutions, but also offers blanks to those who want to customize mat and presentation. Blanks provide a means to get consistent sizing, clean edges and additional project control for even the most unique photograph or artwork. Blanks are very cost-efficient and since they're virtually waste-free, most photographers and artists realize additional savings, too.
Standard sizing: In a nutshell, standardization means the matted print or artwork is ready to display or frame. Even if the image is an unusual or atypical size -- square, circular or oval -- the correct matting technique can still enhance the effect while increasing the art's ability to sell. Ready to frame equals ready to sell and hang – meaning your buyer can display with ease at home or in the office.
A Single … no, make that a double: Cost isn't the only issue when considering single versus double matting. The most crucial issue is the artwork itself. Determine which method of matting will enhance the work's emotive and aesthetic value. A soft, neutral single mat may intensify the beautiful simplicity of a simple line sketch. Or perhaps you'll want to draw attention to the complexities in each stroke -- boldly discovered through layers of striking mats in contrasting colors.
As a rule, a dark contrasting inner mat revealed should be about 3/16 of an inch; however lighter neutral colors often have a wider reveal. And it's worth remembering that while extra mats mean extra cost, there is also extra value, both real and perceived.
Foam board: Though more expensive, using foam board also adds presentation value. Its lighter weight is a good choice for larger photographs and artwork, for conservation purposes and for creating the smoothest presentation possible.
About Mats and Preservation
Mats don't just increase the presentation value of your pieces--they're also important for preservation. Artwork, photos, needlework, and other framed art will deteriorate if adjacent to glass or acrylic in a frame. A proper mat creates breathing room and climate control, and can further protect the image from detrimental environmental conditions, extending the longevity of the artwork.
Proper matting is very important to photograph prints and artwork on paper, since paper is exceptionally vulnerable to heat, humidity, moisture, dirt, dust and even the minute amounts of oil secreted by our fingertips! While standard mats protect and preserve, do note that work of higher value calls for rag mat of conservation quality.
So remember: To make the most of your artwork, stage the scene. Test, or 'dry fit' various sections moving from parts to the whole. With your artist's eye, you'll recognize the perfect package –- the mat board technique that's reflective of your image, the emotive elements of your artwork and your artistic brand.

Happy matting!