Artists and Photographers 2.0
Fact: Facebook.com, is now more popular than Google or Yahoo. More than a trend, Facebook is demonstrative of the 'Web 2.0' movement – the web - based social phenomena characterized by shared information and collaboration. And according to this Wikipedia entry, "To thrive in an era of Social Computing, companies must abandon top-down management and communication tactics, weave communities into their products and services, use employees and partners as marketers, and become part of a living fabric of brand loyalists."
Why is this important to you as an artist or photographer? Because in this "second generation" of the Web (or Web 2.0 as you may have heard it called), there are a variety of web tools and mainstream self-publishing applications that enable personal real-time communication, publication, and distribution. That means more opportunities for you to:
Develop loyal supporters and collaborative networks.
Tag your work with words uniquely descriptive of your artistic brand.
Promote and distribute your work and benefit from royalties.

If you're interested in making the Web 2.0 trend work for you, think about getting involved at one (or all!) of these sites:
Flickr, at www.flickr.com, is a free photo- sharing web site showroom and services suite. The folks at Flickr say they have two main goals: "We want to help people make their photos available to the people who matter to them. We want to enable new ways of organizing photos."

While Flickr prohibits commercial sales – it's for personal use only – Flickr is an excellent way to discuss your techniques, display or share your work and invite commentary. And adding Flickr's photo stream to your own personal web site (where you can sell your work) will certainly boost your traffic. One of the first photo sharing communities, Flickr was declared by Time as one of "25 Sites We Can't Live Without".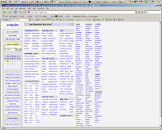 No social networking list is complete without CraigsList, at www.craigslist.org, a 'classified ad' web site and community forums with an estimated 10 million users each month. Artists and shutterbugs can find freelance work, advertise work and discuss their photos and artwork. Here's a recent LA headline: "Photographer Needed for Tomorrow!" And here are recent NY headers: "Art Gallery Seeks Fall Interns" and "Personal Assistant to Art Advisor."
CraigsList is free to browse and respond to ads, though some fees apply to posting 'Help Wanted' ads in major cities – New York City, San Francisco and Los Angeles. Approximately 500,000 new job postings are listed every month.
But before you jump head first into Web 2.0, here are a few things to remember:
On sites such as CraigsList, use common sense. Web 2.0 is a phenomenal platform that's bountiful with opportunity, but it's also abundant with spoofs and scams. Read the fine print; be wary of providing work to unknown entities. As far as personal identifying information – err on the side of caution.
Follow technical and user guidelines for digital contributions. If a site is worth it's salt, it will provide everything you need to know to facilitate uploads and optimize approval and sales.
On web sites such as Flickr, use 'sticky' words to tag your work so users can find it. Sticky words are keyword tags and even phrases that describe the work (and your brand!) in terms of color, style, emotion, mood, technique and audience. Tags work best when they're broad and specific, such as summer : fun : youth : joy: sports : stadium : baseball : Little League : boy : bat or even home run!